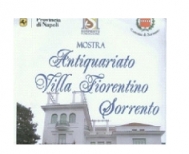 IV Edition Antiques in Villa
From April 25th till May 1st 2014 it will be held, in the enchanting location of Villa Fiorentino in Sorrento, the fourth edition of the "Antiques Exhibition in the Villa".
30 exhibitors coming from every part of Italy will expose inside and in external spaces of the Villa.
In the previous editions the visitors reply was considerable: a lot of visitors crowded the exhibition and showed their appreciation for the exposed objects.
Also the fourth edition foresees, as for the three previous ones, a restoration operation by the Association Sorrento Antique Dealers, who in order to return the Villa hospitality will give new life to one of its decorative elements.