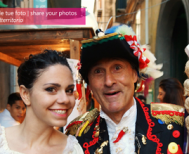 Between April 8th and 10th 2016 and April 15th and 17th 2016 there will be in Sorrento the sixth edition of the event the Values of the Territory, which offers the rediscovery and the exploitation of the traditions of Sorrento through a trip in the agricultural and handicraft world.
In the above said days since 7.00 p.m. residents and tourists can walk among the alleys of the Sorrento historical center and immerse in scenes of daily life set in the past, with artisans, actors, musicians, singers and dancers who, dressed in typical customs, will entertain the visitors with unexpected shows.
This extraordinary portrayal will be enriched with the tasting of poor typical dishes of the Naples tradition, seasoned with the dop and igp oils which took part in the 2016 edition of the Golden Mermaid Prize.
In two retail outlets at the entrance of San Cesareo Street and at the intersection of this street with Tasso Street, vouchers will be distributed which, at the charge of EUR 10 per person, they will give the right to taste all the dishes served along the itinerary drawn in the ancient center. Part of the import drawn by the sale of the vouchers will be given to charity.
There will be besides stands for the promotion and the sale of typical products.
This will surely be an exceptional occasion to let all who will take part in this event
live atmospheres and suggestions of the past.