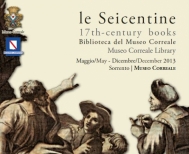 Among the many treasures kept in the Museum Correale of Terranova of Sorrento are not often mentioned the ones preserved inside its library.
In fact it is possible to find numerous volumes and brochures of the sixteenth and of the seventeenth century which constitute the so-called "cinquecentine" and "seicentine", such as for example editions and translations in foreign language and in different Italian dialects of the "Jerusalem Liberata".
In order to make the most of this bibliographical patrimony from May till December 2013 there will be an exhibition which proposes the rare, valuable and historically important book and documentary material which dates from the seventeenth century present inside the library of the Museum.